Anicons Emoji
Anicons Emoji


Anicons Emoji
Love

Anicons Emoji
Free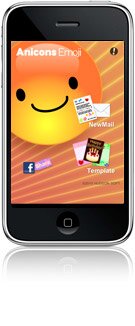 | | |
| --- | --- |
| Title | Anicons Emoji |
| Release | January 22, 2010 |
| Device | iPhone / iPod touch |
| Category | Social Networking |
| Rating | 4+ |
| Price | US$1.99 |
| Copyright | (c)2010 HUDSON SOFT |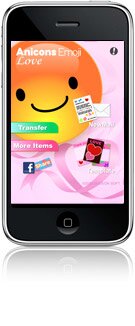 | | |
| --- | --- |
| Title | Anicons Emoji Love |
| Release | January 22, 2010 |
| Device | iPhone / iPod touch |
| Category | Social Networking |
| Rating | 4+ |
| Price | Free |
| Copyright | (c)2010 HUDSON SOFT |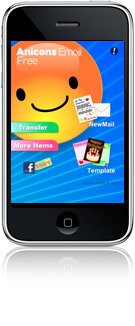 | | |
| --- | --- |
| Title | Anicons Emoji Free |
| Release | January 22, 2010 |
| Device | iPhone / iPod touch |
| Category | Social Networking |
| Rating | 4+ |
| Price | Free |
| Copyright | (c)2010 HUDSON SOFT |
The current version does not function correctly on iOS 4.
<<<Notice>>> Please read carefully!
*Motion Bug on iOS 4
We are now in the test to run Anicons Emoji app(s) on iOS 4, and at this point, found a motion bug stated below:

- Unable to input animated emoticons and linear emoticons due to the fact that the input panel is not displayed correctly.

We continue testing to improve its usability, so please use Anicons Emoji app(s) on iPhone OS3 (up to 3.1.3) until we fix the issues on iOS 4.


Outline

"Anicons Emoji" creates and sends HTML mails using GIF graphics.
No need to pre-set, just start up the application and create!
Features

Various items for Anicons Emoji series including icons and templates!
*New icons and templates planned for release to expand your Anicon library.
With Camera functionality added, you'll be able to take aphoto and attach them to the e-mail.
*Be careful not to attach too many, it will enlarge the data and may cause the app to crash.
Additional Anicon packs can be transferred to main application to add to your Anicon library.

For Extended versions: Use the "Transfer" function to add the icons and templates of the extended versions to your core Anicon library! *This function will only be available for the users purchased Anicons Emoji.
Tips

Even without Shake, it's easy to Undo!
Tap and hold the Icon/Line to add a Bookmark.
Double tap the bottom title to return to the top.
In order to reply to a received mail, press "Copy to reply mail" at the sending screen and paste to the mail.
DynaFont is a registered trademark of DynaComware Taiwan, Inc.
Facebook/Twitter ID: